NEWS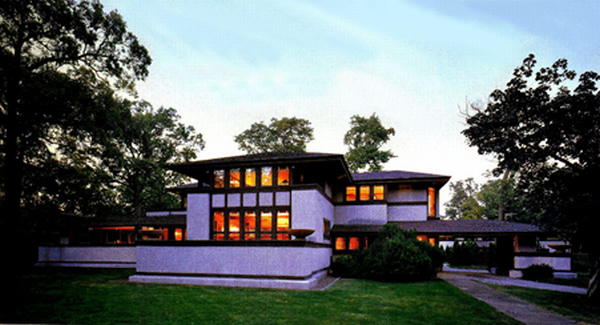 From Our House to Bauhaus: Crafting the Creative Curriculum

5/11/2019
Tom Wolfe, in his book From Bauhaus to Our House, had it backwards: The Bauhaus, rather than being alien to the United States as Wolfe suggests, was originally home grown. The Bauhaus, established by architect Walter Gropius to promote a powerful fusion of art, technology, and craft, has renewed relevance now, when people are looking at ways in which education can stimulate creativity and innovation through learning that is more "hands on." The Bauhaus (German for "build house") was a "ma....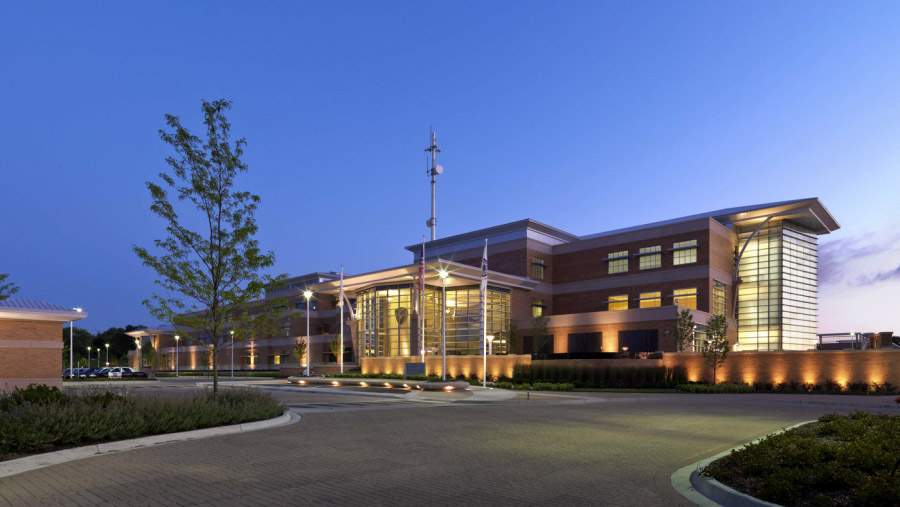 Guns and Schools: Hard or Soft?

5/11/2019
In the wake of the Parkland shootings, the NRA has called for immediate hardening of schools, while NPR responded by saying they should be softened, and architects are caught in the crosshairs of the argument. Especially architects who are involved with school design must now choose how, or whether, to address guns in schools. Guns and schools don't mix. But it is currently doubtful that the strong gun control laws needed to help curb this problem will soon be enacted. Architects, as the profess....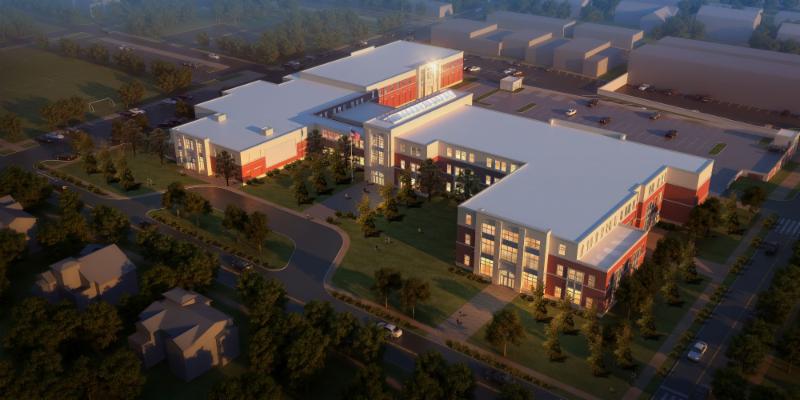 The new Hinsdale Middle School opens on time and below budget !

1/22/2019
The new Hinsdale Middle School opened to students this month, on time and below budget. "For you to be the first students to learn in these classrooms, sit in these bleachers, and perform on these stages is very unique," said Principal Ruben Pena on the school's opening day earlier this month. "I cannot overemphasize the magnitude of this day."

Located just south of the former school, the new one, designed by Cordogan Clark and built by Bulley & Andrews, provides 140,000 square feet....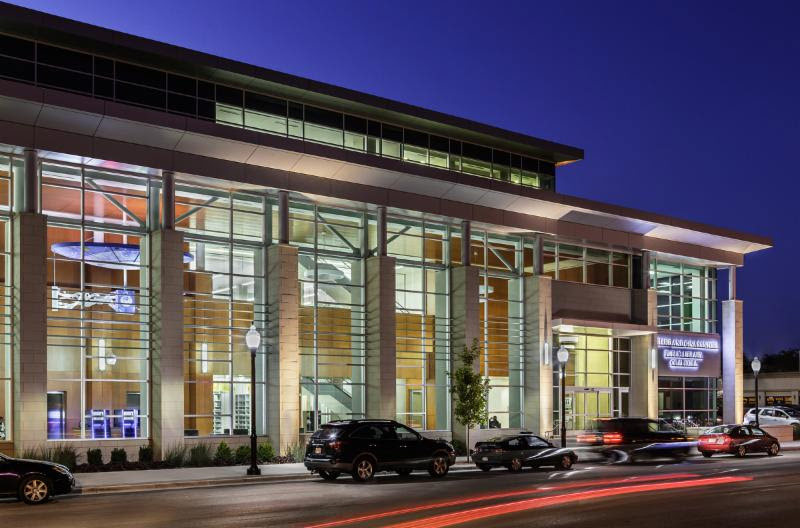 Design for Living

11/27/2018
What is the purpose of architecture? What is the importance of architecture? What is good design? How can architecture make life better? These questions are as simple but also as complicated as people are.

Webster's dictionary defines Architecture as "the art or practice of designing and building structures and especially habitable ones." "Design" is embedded in this definition. What is design? Webster's says it's "a plan or protocol for carrying out or accomplishing....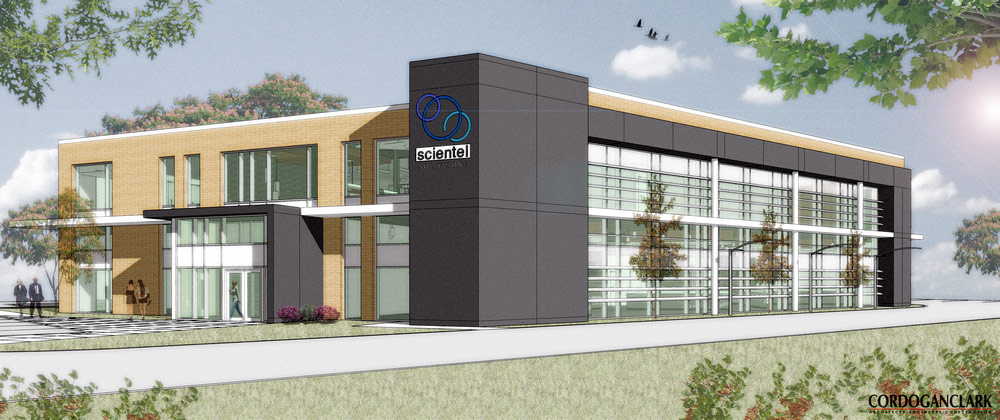 Scientel Solutions To Establish World Headquarters in Aurora, Illinois

9/1/2018
Scientel Solutions, a universal integrator offering design, installation, and maintenance support for telecommunications and emerging technology, will locate its new World Headquarters in Aurora, Illinois.

Nelson Santos, President & Co-founder of Scientel Solutions said, "This project is very special to us, it is our world headquarters. Over the past five years it has been a growth experience for Scientel, we opened our first office in Europe a little over a month ago, we have sever....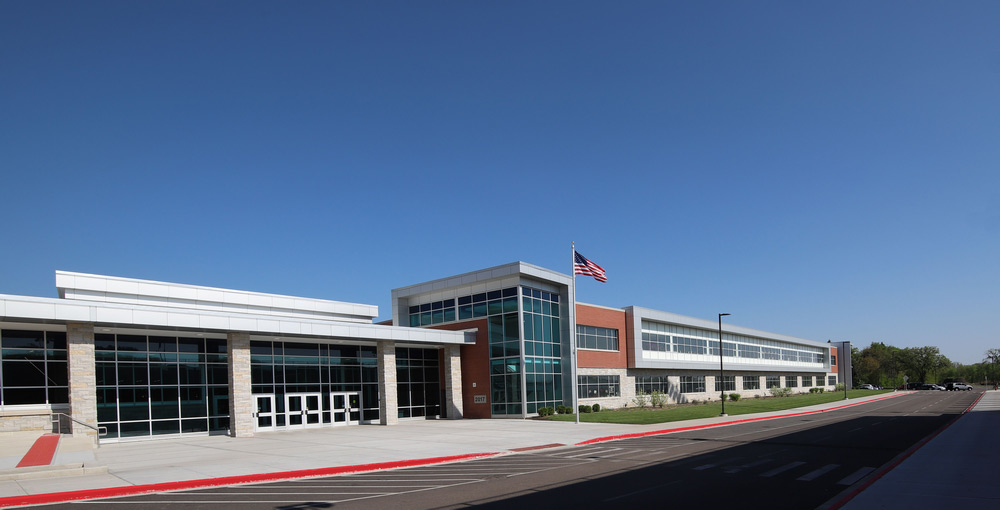 New wings, entrance, and stadium open at East Aurora High School: 'The kids are in awe'

5/23/2018
East Aurora High School's expansion and renovation marks a significant advancement for the students, faculty, and administration. The work, designed to address capacity and congestion issues, not only boosts the stakeholder's morale, but also the school's image. Building a better atmosphere creates value while fostering a sense of pride for all involved. "It's been humbling to say the least," East Aurora High School Principal Marina Kosak said. "Because a lot of times it was, this is East Aurora....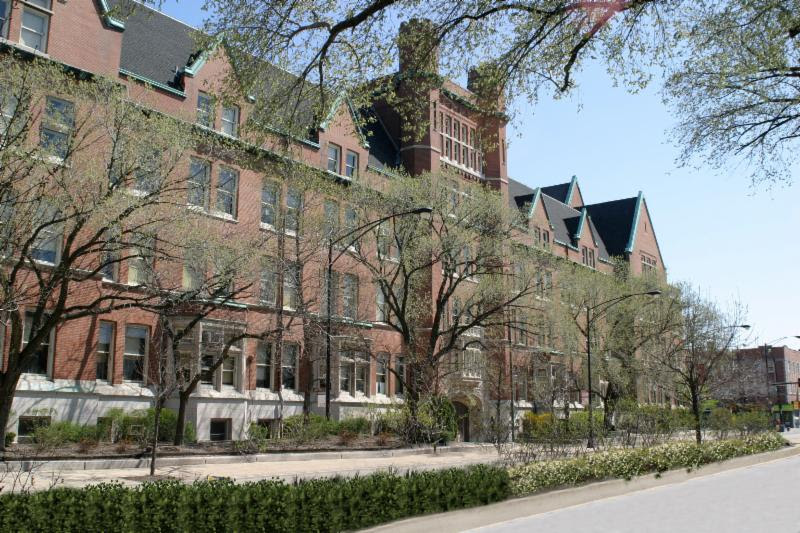 Preserving Chicago's Heritage: New Life for Illinois' Oldest High School

2/18/2018
Nestled in Chicago's historic Ravenswood-Lake View neighborhood and surrounded by 100-year old homes and Victorian mansions, Lake View High School is an architectural gem. There is no mistaking the relevance of this red brick and limestone building. Upon arrival, all visitors are welcomed through a Romanesque-arched entryway with stained glass.

The building's historic significance plays a vital role in the surrounding community. Not only does it add character to the neighborhood, but ....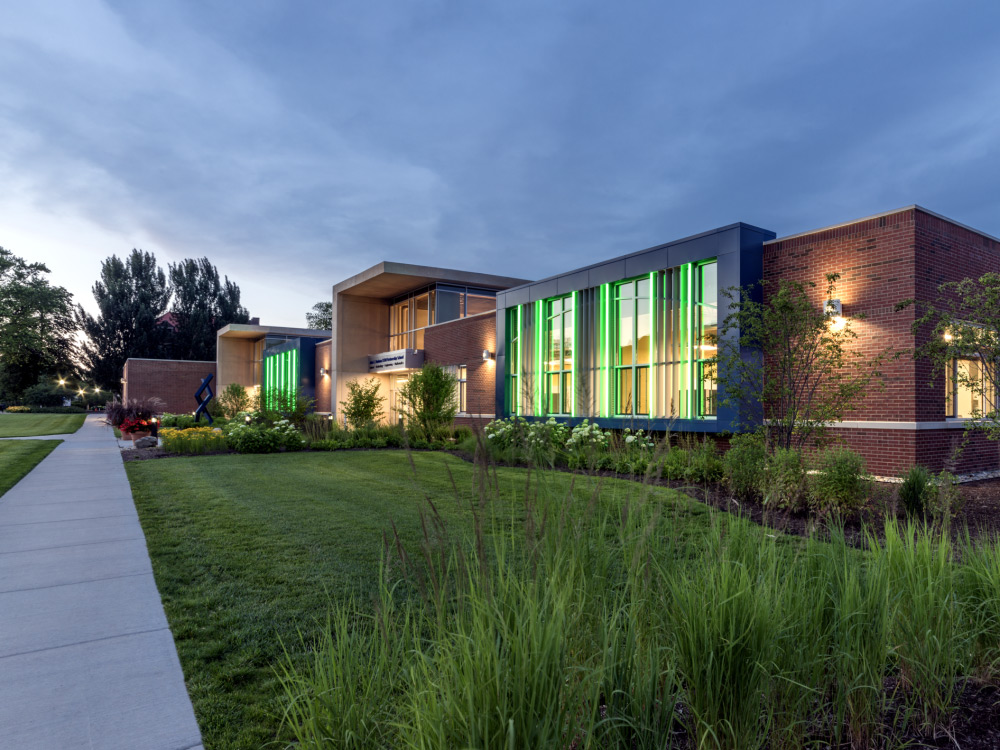 Aurora University's John C. Dunham STEM Partnership School Wins Top "Leading by Learning" Award of Distinction!

10/28/2017
Two dozen school designs will be on display at the 2017 Joint Annual Conference, including those earning awards in the 29th annual Invitational Exhibition of Educational Environments, sponsored by IASB Service Associates. The awards were made by a blind jury pool of architects and superintendents. This year's jury chose one Award of Distinction winner, three Awards of Merit, and five Honorable Mentions. Criteria for award submissions included: program/challenge met; how the facilit....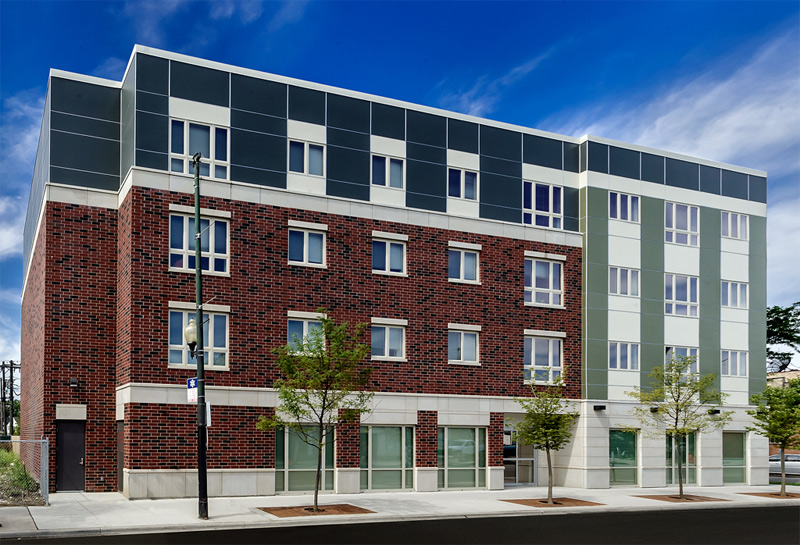 Milwaukee Avenue Apartments wins the 2017 IHDA (Illinois Housing Development Authority) Gale Cincotta Housing Champion Award for Accessibility Innovation!

10/27/2017
Milwaukee Avenue Apartments won the 2017 IHDA (Illinois Housing Development Authority) Gale Cincotta Housing Champion Award. Developed by Full Circle Communities, Milwaukee Avenue won for its innovative design that improves accessibility at every opportunity. Milwaukee Avenue Apartments features 32 apartments, all including adjustable cabinets and counter tops, roll-in showers, adjustable closet organizers and audio-visual entry and alert devices. Located in Chicago's burgeoning Avo....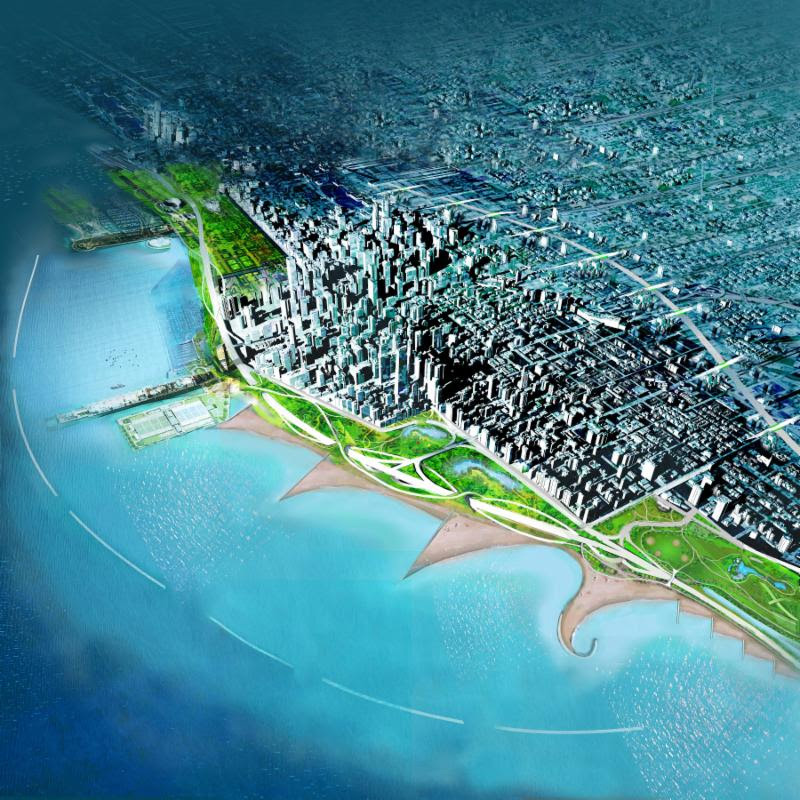 "Make No Little Plans": Our proposal for a new Chicago lakefront

10/15/2017
Daniel Burnham, the architect and urban designer responsible for the 1893 World's Fair as well as for helping preserve Chicago's lakefront as an open park free of commercial development, famously said, "Make no little plans; they have no magic to stir men's blood and probably themselves will not be realized. Make big plans; aim high in hope and work, remembering that a noble, logical diagram once recorded will never die, but long after we are gone be a living thing, asserting itself with ever-gr....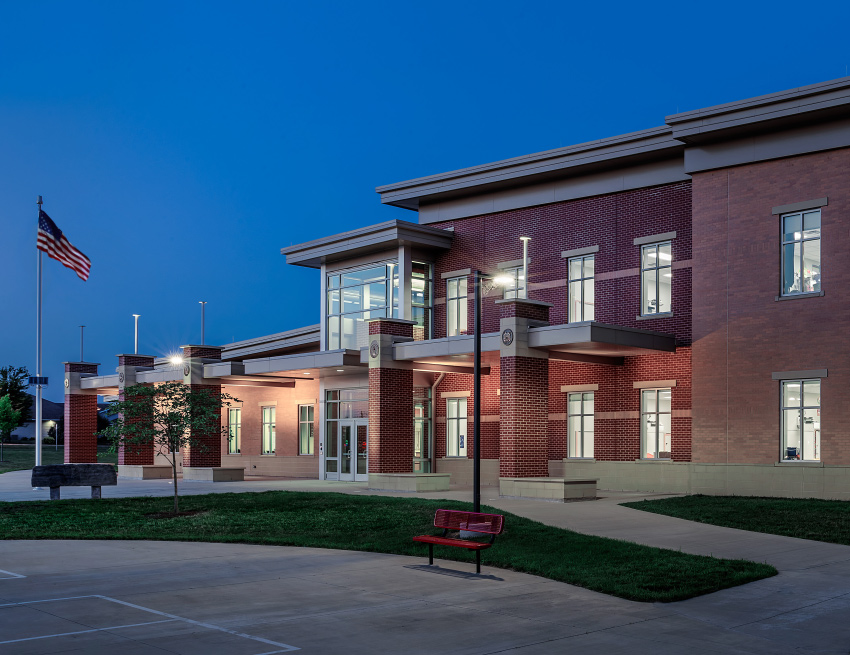 Clinton Elementary School: Building for Community

9/27/2017
The community of Clinton, Illinois overwhelmingly passed a bond referendum five years ago to build a new elementary school for its Unit School District 15. More than 70% of voters favored the bond proposal. The main program challenge for Clinton's new Elementary School, and the one that has also yielded the greatest benefits, was: How could Clinton's two existing, separate elementary schools be merged? Previously, elementary grades 2 and 3 were taught in a separate building from grades 4 and 5. ....

Ding Shu General Airport, Yixing Dushu, China

7/18/2017
Cordogan Clark & Associates is teamed as the Design Architect with Hanson Engineers for the design of a new private regional airport in Ding Shu, China. Cordogan Clark is designing the Fixed-Base Aviation Operations building, Hangars, and Firestation. Ding Shu general airport is in the town of Yixing Dushu town. The first phase is designed in accordance with class 4C General Airport standards. The project covers an area of 500 acres with a main runway 800m x 30m, to meet the demand of "Seastar"....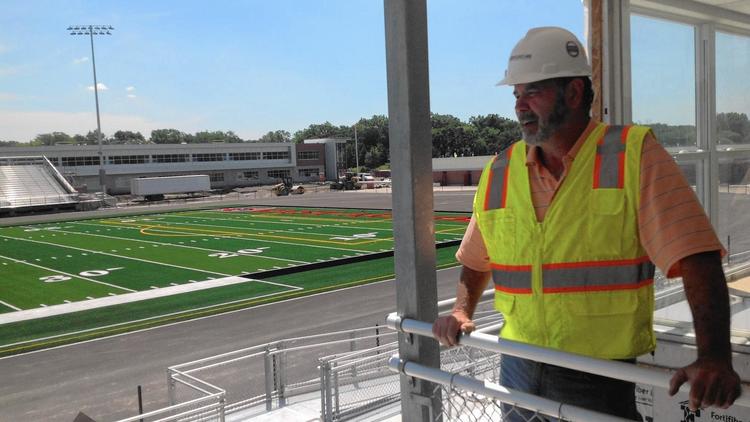 Timing makes $50M East Aurora project among 'most challenging'

6/24/2017
It's hard for Rick Krischel, construction manager for Cordogan, Clark and Associates, to contain his enthusiasm for the mammoth East Aurora School District renovation he is overseeing. For one thing, the whole shebang is coming together beautifully. Mother Nature's cooperation these past eight months and a lot of hustling, not to mention teamwork, on the part of everyone involved in this nearly $50 million project at the high school alone has not only kept things on schedule, he say....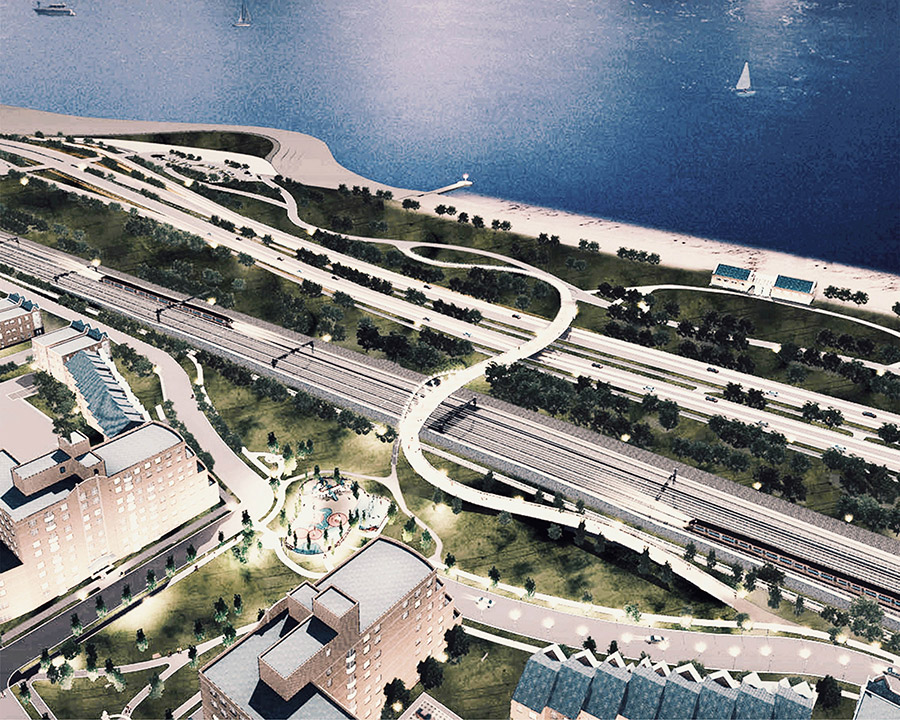 New 41st Street bike and pedestrian bridge

6/18/2017
City officials and members of the Bronzeville community came together yesterday to formally break ground on a new bike and pedestrian bridge at 41st Street on Chicago's South Side. The long-discussed project is finally ready to begin its reach across Lake Shore Drive and the Illinois Central rail tracks to connect the neighborhood to Chicago's lakefront trails and beaches. Designed by Cordogan, Clark & Associates, the snaking bridge will utilize a double-curved arched mono-truss lay....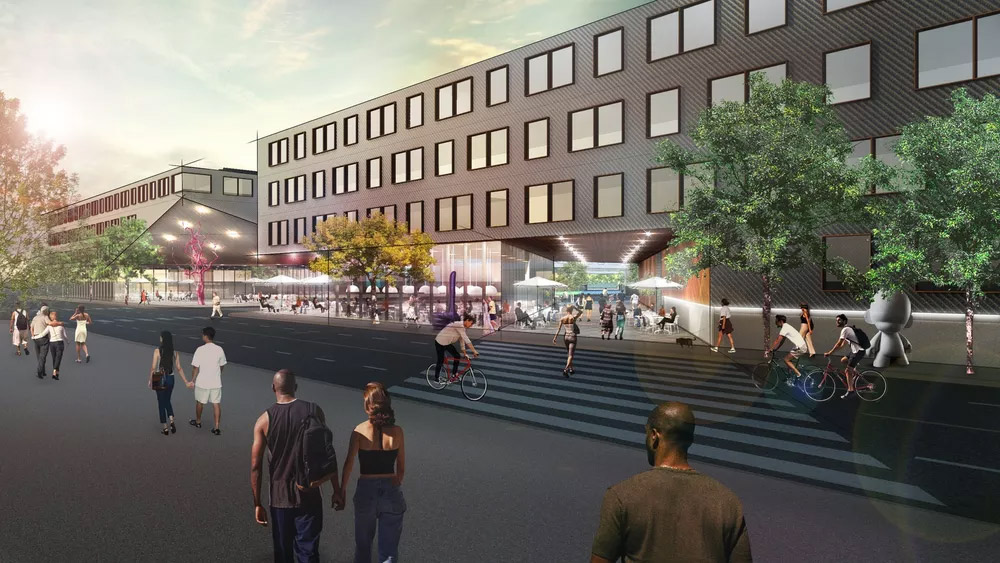 Developer unveils reworked proposal for large Pilsen site

4/30/2017
Developer Property Markets Group is proposing a major mixed-use development in Pilsen which will create more affordable housing than most other privately funded developments in the history of Chicago. The new plan, named ParkWorks, would see the creation of several new buildings which would deliver hundreds of new residences over a 7.85-acre site in the Pilsen neighborhood. "We are doing a lot of things that are a win-win for everyone involved and we hope that the new plan demonstrate....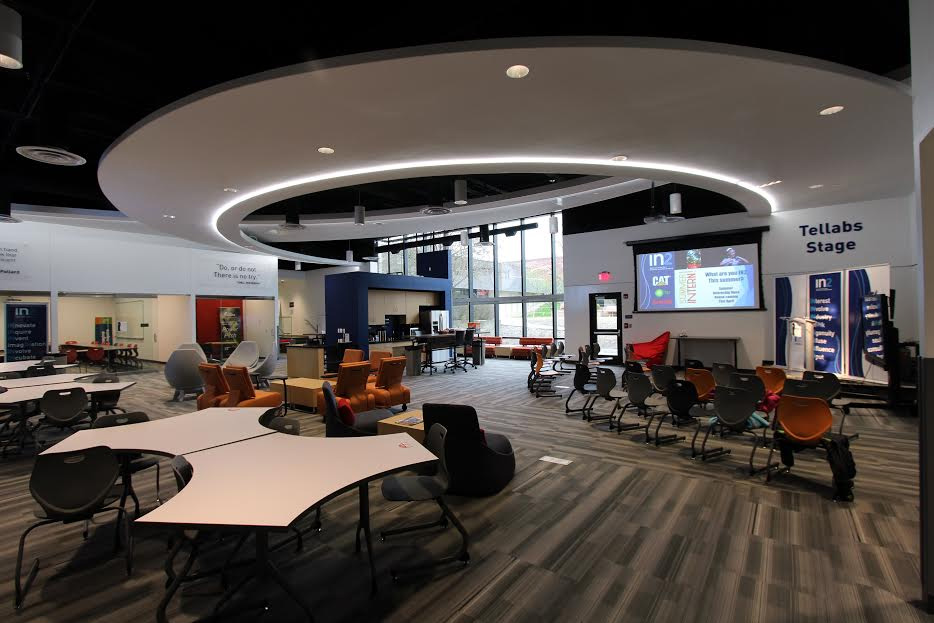 IN2 - Illinois Math and Science Academy

4/16/2017
YouTube co-founder Steve Chen, an esteemed alumnus of world-renowned Illinois Math and Science Academy (IMSA), recently returned to his alma mater to unveil the new Steve and Jamie Chen Center for Innovation and Inquiry, IN2. Designed to foster innovation among the high school students at IMSA, IN2 opens as part of IMSA's 30th anniversary celebration. "When I reflect on the pivotal points in my own journey of innovation and entrepreneurship, IMSA was among the most important," said Chen. "My yea....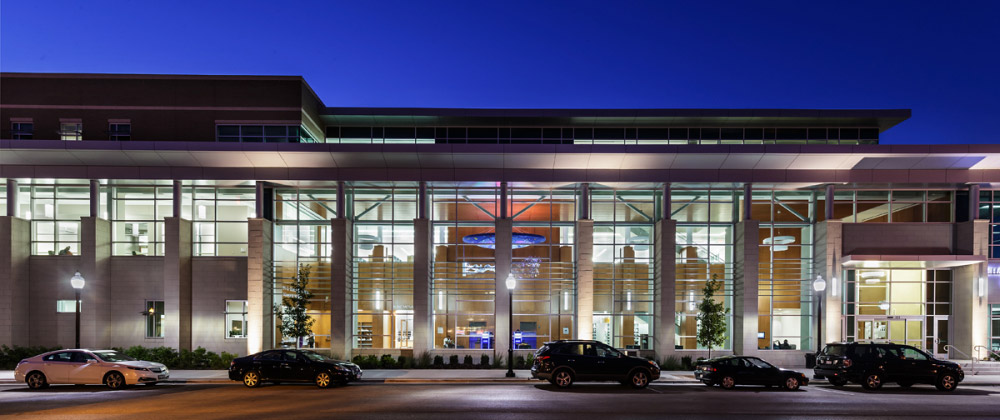 Library Makerspaces: A New Alternative Education Environment

3/22/2017
Since 2013 when the American Library Association (ALA) announced the formation of its Center for the Future of Libraries, it has focused much of its work on identifying new emerging trend relevant to libraries, librarians, and their communities. Though we can't predict the future, we can identify trends. Understanding these "currents" shaping society can better enable us to envision the future.

ALA's Center is itself modeled on the American Alliance of Museums' (AAM) very successful ....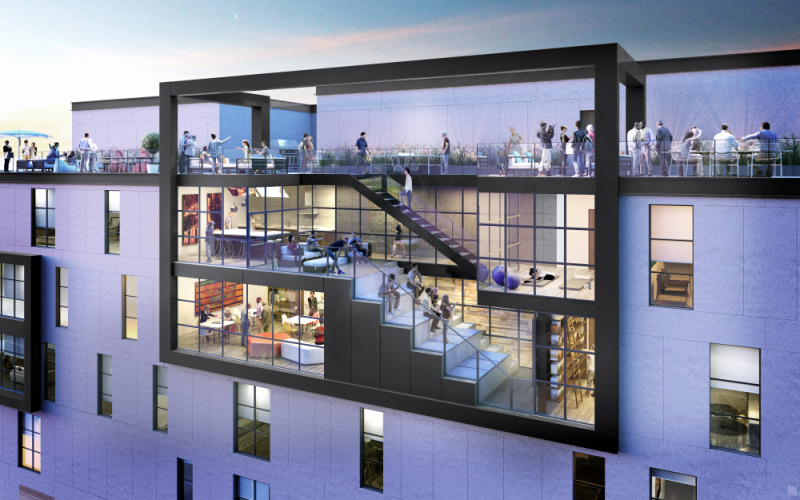 New 'U' apartments headed to Chicago's University Village

3/4/2017
The 99-unit rental development is aimed at young professionals and grad students

Located directly west of the Dan Ryan Expressway at 710 West 14th Street a new luxury apartment development branded simply as "U", designed for young professionals and grad students, is now underway. Construction has begun on the 99-unit seven-story apartment building in Chicago's University Village neighborhood. Its architectural design, headed by Cordogan Clark & Associates, focuses on high-end ....

East Aurora High School (Construction Progress)

2/6/2017
Students at East Aurora High School are beginning to see big changes at their school! A brand new stadium, new 8 lane competition track, seating for 3,500 fans, concession stand and new Tom Cat entry plaza, as well as 20 new classrooms, a new Fine Arts addition, and new main entry for students are going to give students much needed space for an expanding population. The new Stadium and additions are not the only changes underway: The heart of the existing 1950's building is b....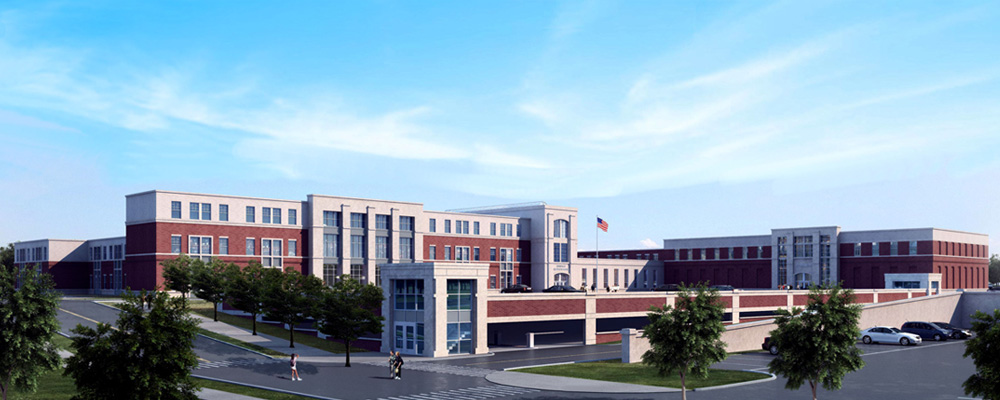 Hinsdale Middle School Design Update: Referendum Passes!

11/17/2016
Citizens of Hinsdale, Clarendon Hills, and Burr Ridge have something to celebrate this November. In the recent November 8th polls, the referendum for the new Hinsdale Middle School passed. Thanks to a community education effort, voters were aware of all the implications included in the referendum and the benefits that would go along with it. This community effort was key to the referendum's success.

One of the main reasons Hinsdale began exploring the idea of a new school is the over....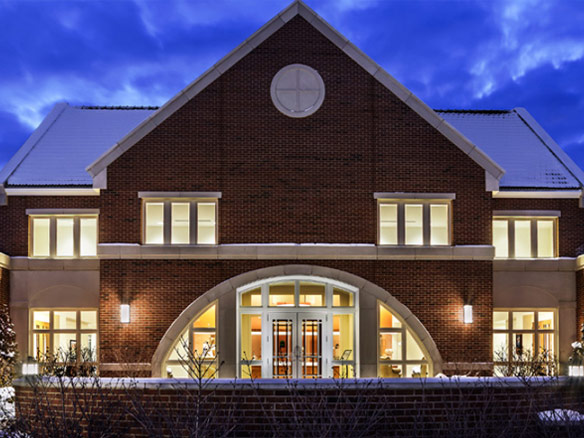 New Welcome Center Brings Warm Welcome

10/27/2016
As the new "front door" for the campus, the new Ellsworth and Virginia Hill Welcome Center at Aurora University, designed by Cordogan Clark & Associates, warmly welcomes students, alumni, and other visitors. The overall environment of the Welcome Center is one of elegance and warmth, maintaining the red brick and red roof tile architecture seen throughout the University. It greets visitors as a prominent entrance, and serves as the point of contact for future and past students. It also provides ....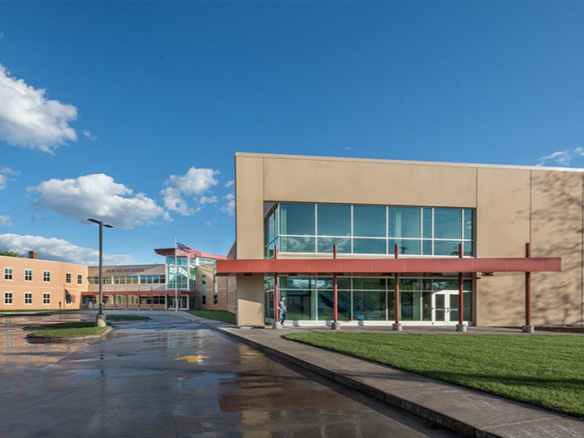 A Transformative New School for the 21st Century

8/19/2016
The Silas Willard Elementary School in Galesburg, Illinois

From chalkboards to touch screen monitors, Silas Willard Elementary underwent monumental changes building their new school. Silas Willard has been a source of great pride in this community where in 1917 future president Ronald Reagan attended first grade. Yet many in the community knew the school needed change, since the century-old building had remained unchanged while technology rapidly advanced. The Galesburg communi....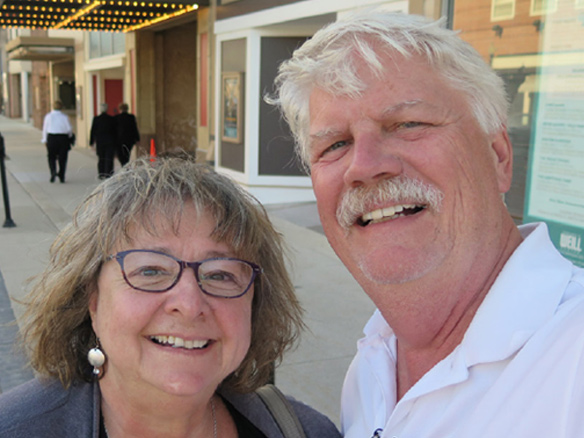 It all started Christmas Day 2015...

7/15/2016
Day 1:

Hi! I am Rob Galbraith, president of Keystone Architecture, and I was surprised with a very special Christmas present from my wife Carol in 2015. It was a Frank Lloyd Wright weekend in Wisconsin! I have been a great admirer of Frank Lloyd Wright over the years, and Carol and I have visited many of his famous projects including Taliesin and Taliesin West, Falling Water, Robie House, and his home and studio in Oak Park. I have always told Carol that I thought it would be....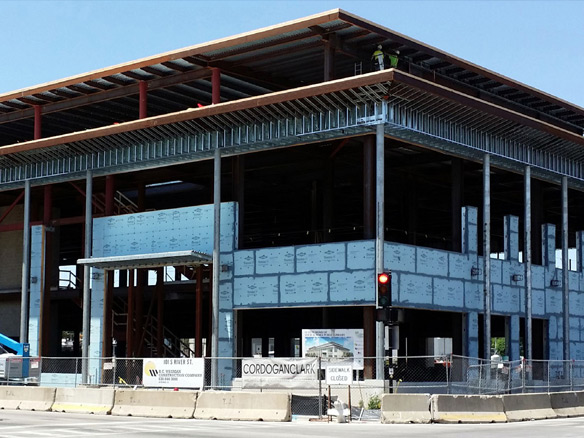 Premiered on Aurora Public Library, "LiquidArmor" Wins Gold Edison Award

5/12/2016
The Dow Company's Nick Scheib, Commercial Market Manager, recently told us that one of the best ways Dow gets new product ideas is to watch where things are being done inefficiently at a construction site. Inefficiency, Nick says, can suggest the need for a new product. Dow's building material scientists and marketing managers are always looking for new solutions to construction challenges. One recent challenge they solved was for an easy way to flash and seal surfaces, to provide a long-lasting....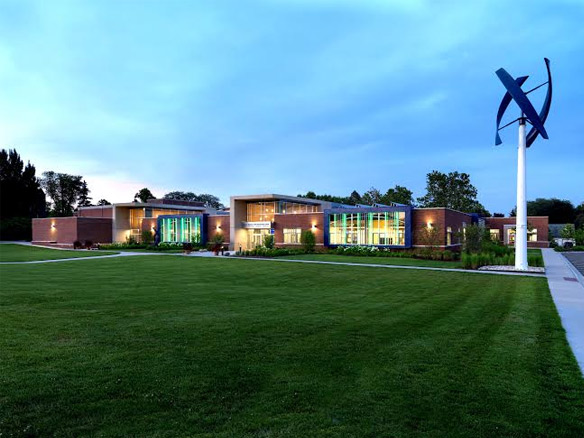 Aurora University's John C. Dunham STEM Partnership School Awarded LEED Platinum

3/27/2016
The U.S. Green Building Council has awarded the John C. Dunham STEM Partnership School at Aurora University with a Leadership in Energy and Environmental Design (LEED) Platinum certification, recognizing the energy-efficient and high-performing design of the building. The STEM Partnership School is one of three schools in Illinois and one of only 43 schools in the USA and 47 schools worldwide to obtain LEED Platinum status.

As a result of intense national interest in sustainable or "....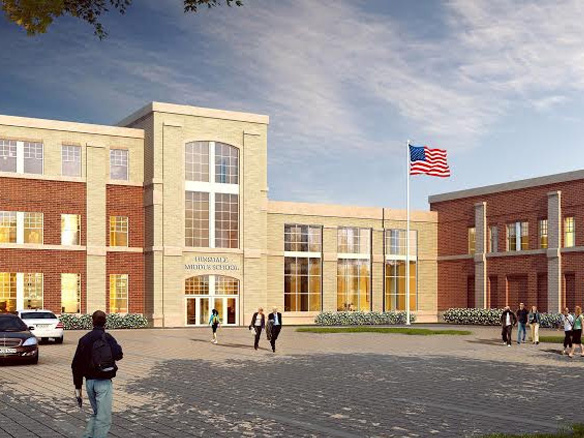 Hinsdale Middle School Design Update: Referendum Vote March 15th

3/5/2016
As part of the General Primary Election on March 15, 2016, voters in District 181 will be presented with a referendum question seeking authorization to sell up to $65 million in bonds for the purpose of building a new school, designed by Cordogan Clark & Associates, that would replace Hinsdale Middle School.

Conceptual Design: 1st Floor:
The Hinsdale Middle School (HMS) conceptual design main floor includes nine core classrooms, a STEAM lab (science, technology, engineerin....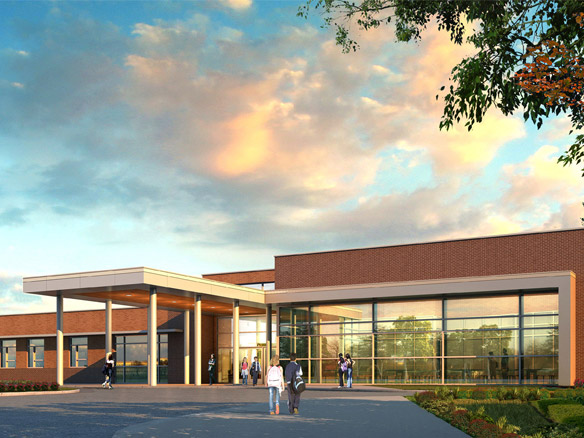 A New Keystone for Cordogan Clark & Associates

2/11/2016
Sunnyside Intermediate School - Lafayette School Corporation - Lafayette, Indiana (Cordogan Clark with Keystone Architecture)

We are pleased to announce that Keystone Architecture, an architectural firm headed by Rob Galbraith based in Lafayette, Indiana, has merged with Cordogan Clark & Associates. Keystone Architecture has been in business for over 25 years and has designed academic buildings, stadiums, medical facilities, commercial and office space, banks, custom homes, and m....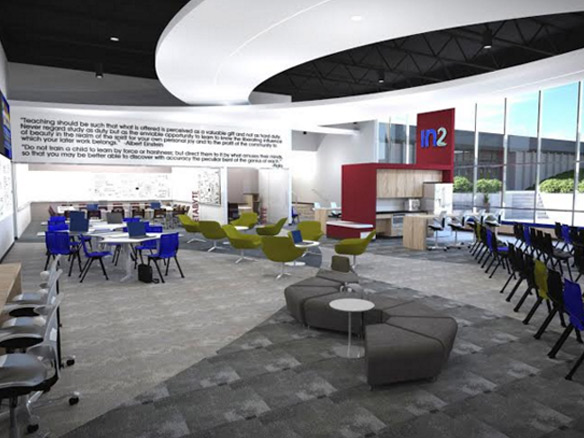 Illinois Math and Science Academy - IN2: The Steve and Jamie Chen Center for Innovation & Inquiry

10/28/2015
Steve Chen, co-founder of YouTube and AVOS Systems, Inc., generously designated a $1,000,000 lead gift, through the Schwab Charitable Fund, to the IMSA Fund for Advancement of Education to benefit his alma mater, the Illinois Mathematics and Science Academy (IMSA).

IMSA is a publicly funded STEM academy with about 600 10th through 12th grade students. Internationally recognized, it develops creative, ethical leaders in science, technology, engineering and mathematics. As a teaching ....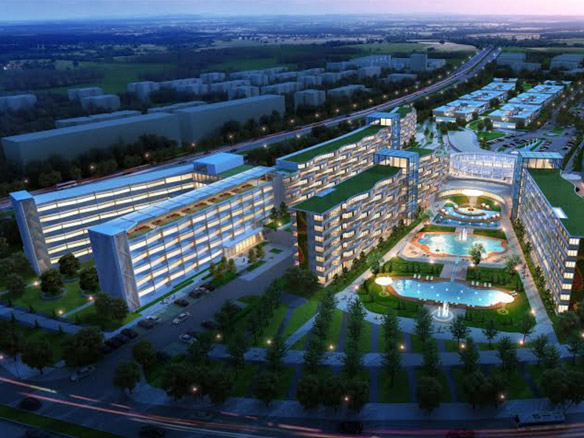 CITIC Chongming Island Retirement Community (CCRC) Project

10/22/2015
"A Great Place for the New Start of Life"

Cordogan, Clark & Associates, teamed with The Davis Experience of Phoenix, was one of three firms invited to enter an international competition for the design of a new Continuous Care Retirement Community (CCRC) on Chongming Island. Our project for the new CITIC Chongming Island CCRC is a state-of- the- art retirement community that integrates international "best practices" in a spectacular resort-style setting. It is designed in harmon....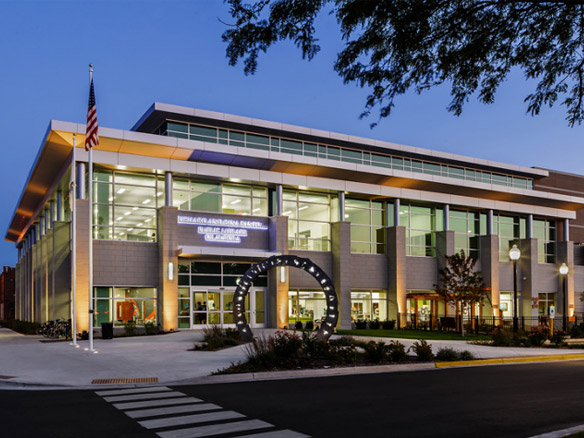 City of Aurora's New State-of-the-Art Public Library

10/15/2015
The Richard and Gina Santori Public Library

The City of Aurora opened its new LEED-certified 98,000-square-foot Main Library as part of its commitment to improving the City and its infrastructure.

The new Aurora Main Library is an important new civic destination for culture and entertainment, and gathering point for the entire community. It features state-of-the-art materials handling technology; expanded space for children and youth services; meeting rooms and quie....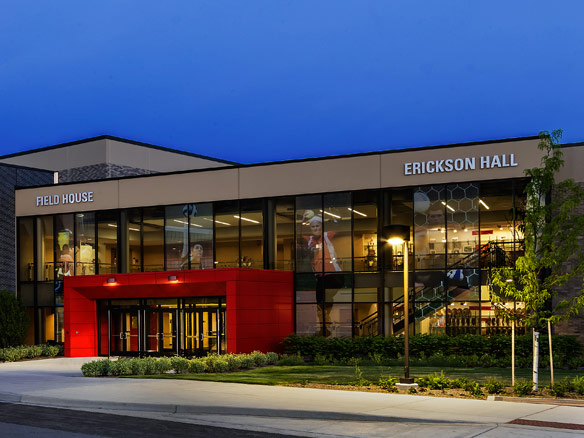 Waubonsee Community College Celebrates Grand Opening of New Field House

8/5/2015
With Field House Opening, Waubonsee's 2020 Master Plan Now Complete - Ahead of Schedule and On Budget

Waubonsee Community College opened the doors of its new Field House addition and renovated Erickson Hall in March on the college's Sugar Grove campus, marking completion of its 2020 College Master Plan. Supporters including public officials, faculty, and friends, gathered to reflect on the projects completed through the years and tour the capstone project, the new field house. ....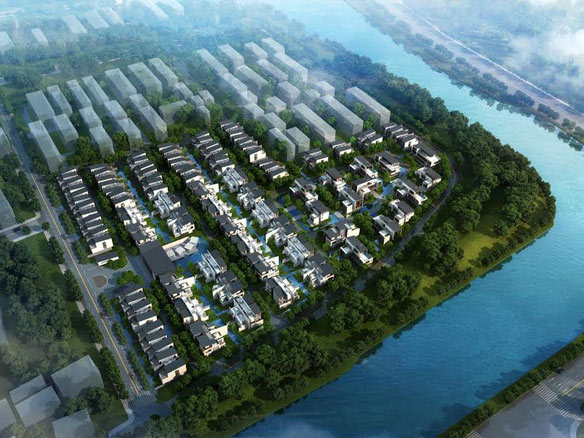 Suzhou Villa Master Plan

6/8/2015
Cordogan Clark & Associates is providing master plan and architectural design for a multi-family villa site in Suzhou, China. This master plan and design for a prominent and historically sensitive site integrates water, nature, and architecture. It respects key elements of the local design tradition, while bringing it new life for the 21st century.

The structural clarity of Suzhou and the Jiangsu Province's traditional architecture is complemented by a playful and even sensual approa....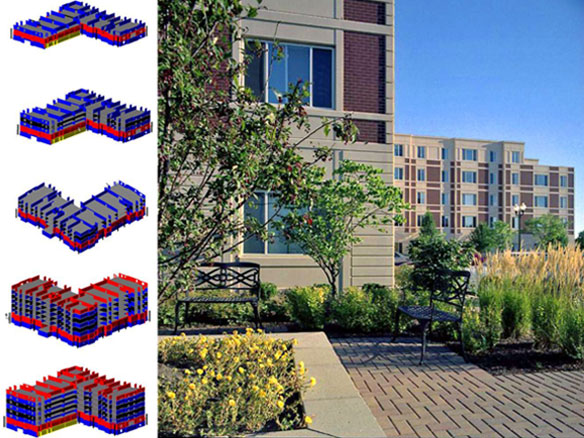 Multi-Family Housing Systems Building

3/31/2015
Residential Construction Processes Through the Years

Imagine that when you buy a car you first select a designer and a master assembler. Parts and materials arrive from different states and countries for on-site fabrication. You're given a probable 6 month date for completion, barring unforeseen conditions and Force majeure.

In many ways building buildings has changed little for centuries. Most often, workers at job sites build buildings from raw material and individ....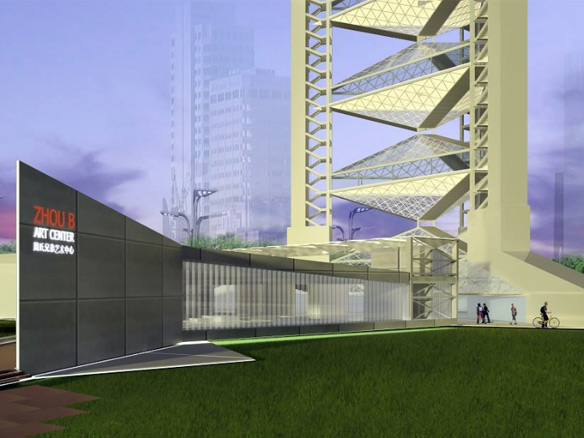 Zhou B Art Center, Museum and Sculpture Garden - Beijing, China

2/12/2015
This project for internationally recognized artists the Zhou Brothers provides a museum, exhibition space, multi-purpose area, restaurant, and sculpture garden in Beijing's Olympic Park.

Cordogan Clark & Associates have worked as architects and architectural advisors for the Zhou Brothers since 1997.

....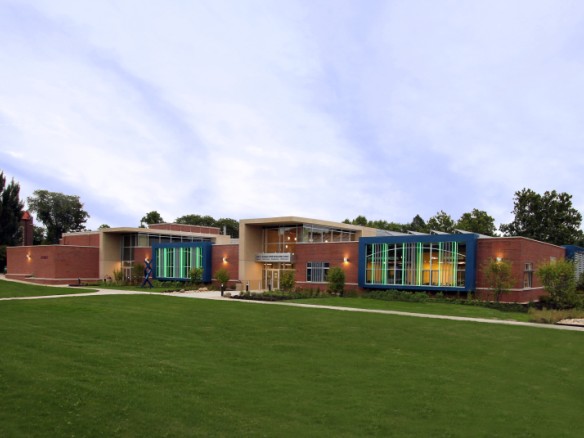 Innovative learning facility opens for 2014-2015 school year on Aurora University Campus

10/12/2014
The John C. Dunham STEM Partnership School: A New Education Model Since August 2014, 150 elementary and middle school students have been attending the newly completed John C. Dunham STEM Partnership School at Aurora University. This innovative learning facility, which serves third through eighth grade students from four regional public school districts, is designed to address regional and national deficiencies in science, technology, engineering and math education. The School a....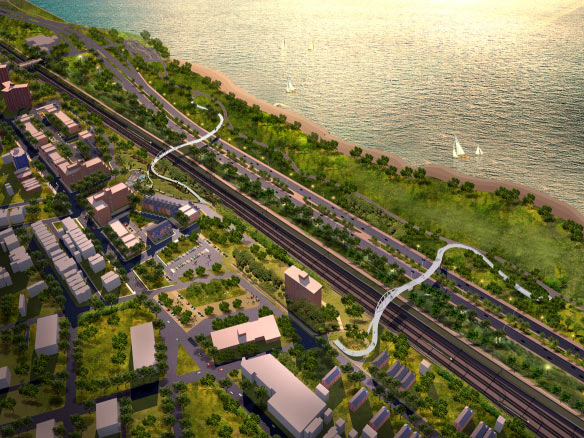 South Side Lake Shore Drive pedestrian bridges finally get funding

10/7/2014
Blair Kamin's article in the Chicago Tribune focuses on the recently announced funding for the Lake Shore Drive pedestrian bridges, as well as the politics and process behind it. Mayor Rahm Emanuel and Sen. Dick Durbin announced federal funding for the new twin pedestrian bridges—one to replace the aging span at 43rd Street; another, at 41st Street. Designed by Chicago Cordogan, Clark & Associates, in association with AECOM for structural and civil engineering, and Dear Productions ....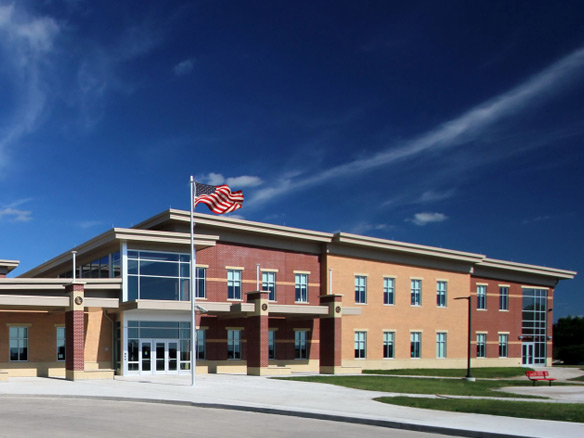 Clinton Elementary School

8/6/2014
The new Clinton Elementary School in Clinton, Illinois opened on schedule and on budget. Clinton Community School District administrators and teachers began moving into the new 70,000 sq. ft. building during the first week of July.

The community of Clinton overwhelmingly passed a bond referendum in late 2012 to build a new elementary school for its Unit School District 15. The referendum passed by a wide margin, with more than 70% of voters favoring the bond proposal. The project incl....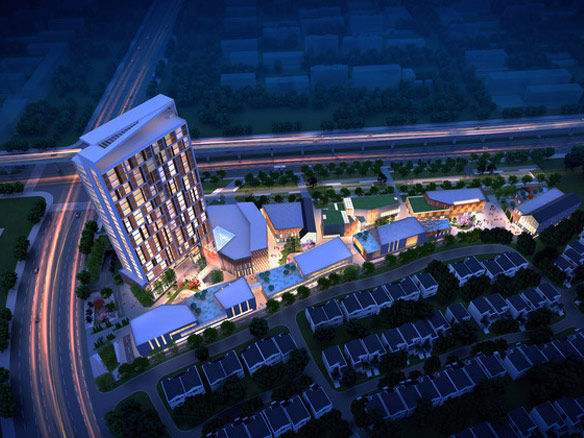 Cordogan Clark & Associates Wins Competition for Mixed-Use Complex in Wuxi, China

12/24/2013
The city of Wuxi, China grew up along the banks of the large Lake Taihu. Much of its historic architecture arose along its banks, and along the waterways that feed into it. The playful reflections of architecture in water inspired this multi-use Hotel, Retail, and Apartment complex.

This project unites sustainable design and functional efficiency with four key elements of traditional Chinese architecture that are here repositioned for the 21st Century. These elements are: Layering;....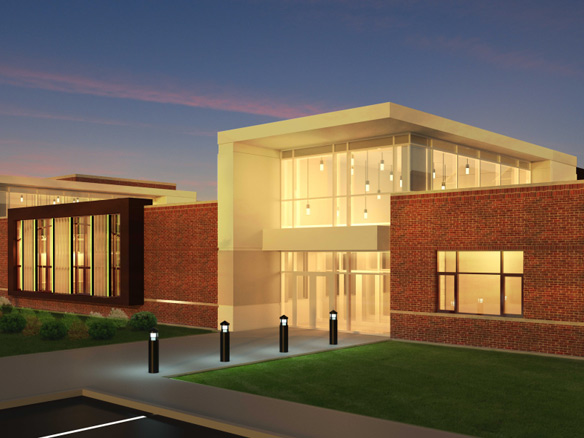 John C. Dunham STEM Partnership School a New Education Model

11/22/2013
Construction has begun on an innovative learning facility designed to address regional and national deficiencies in science, technology, engineering, and math education. Next year, 200 elementary and middle school students will attend new John C. Dunham STEM (Science, Technology, Engineering and Math) Partnership School on the Aurora University campus. The STEM Partnership School will serve students in grades 3 to 8 from four regional public school districts; its curriculum will align with new ....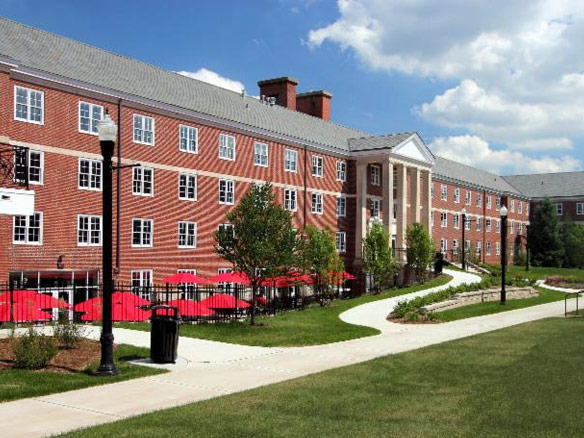 Student Residence Renovation Gives Students Room to Grow

11/10/2013
In the fall of 2013, Northern Illinois University reopened its residential Gilbert Hall after a state-of-the-art renovation as part of NIU's Vision 2020 initiative.

"We are working hard to create the best possible living-and-learning environment as part of our focus on student career success," said NIU President Doug Baker.

Gilbert Hall first opened in 1952 as the third dorm on the University's campus, and it had not been used to house students for eighteen years. The new ....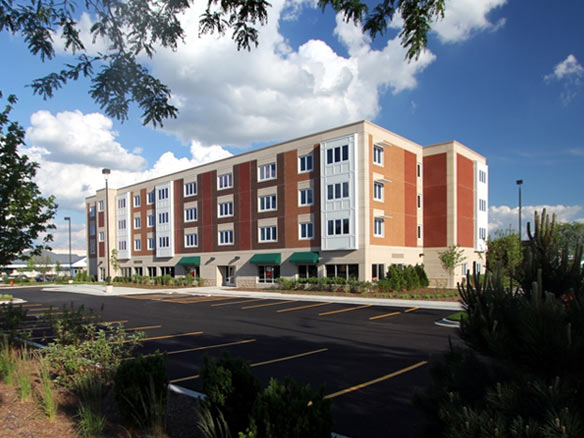 First-of-Its-Kind Supportive-Housing Development in the Northwest Suburbs: Myers Place in Mt. Prospect Provides New Home for Special Needs Residents

7/12/2013
Myers Place is an innovative, supportive, affordable housing project in Mt. Prospect, Illinois. Residents with mental disabilities who are able to live independently, all originally from Chicago's Northwest Suburbs, have found a new permanent residence here. This $13.2 million four-story development is a mixed-use 39-unit apartment complex featuring a variety of community spaces indoors and outdoors. The first floor blends commercial development and ancillary residential spaces, including office....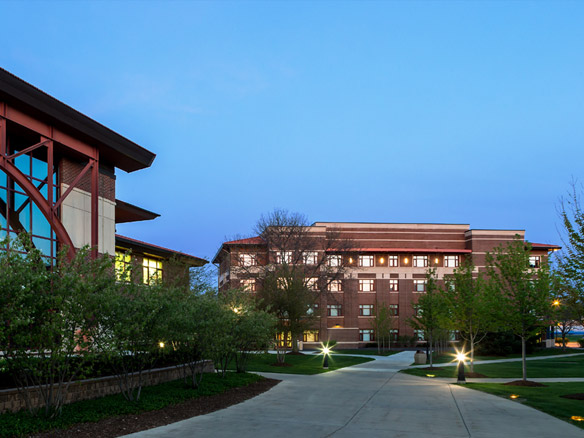 Centennial Hall Provides Lifestyle Transition

6/11/2013
The new four story Centennial Hall at Aurora University represents the University's commitment to meet the growing demand for on-campus student housing. A private liberal arts institution in a historic neighborhood district in Aurora, Illinois, Aurora University has enjoyed significant academic and enrollment growth since the beginning of the millennium. Last year's freshman class of 500 students represents a 265% enrollment increase since 2000. With enrollment more than doubling, the University....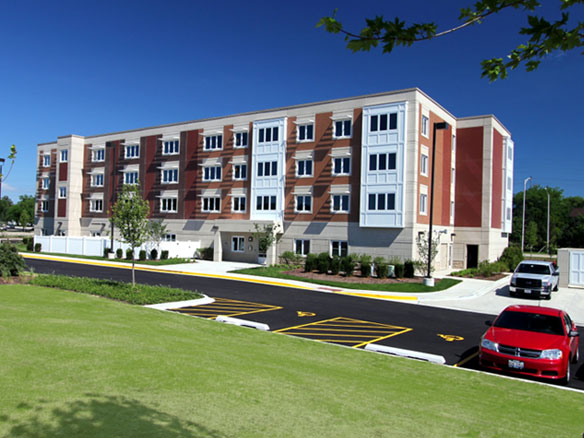 Mount Prospect Community and Project Partners Celebrate Grand Opening of Myers Place

6/4/2013
Community leaders, project partners and local residents celebrated the grand opening for Myers Place, a new $13.2 million mixed-use supportive housing development located in the northwest suburbs of Chicago.

Myers Place, located in Mount Prospect, fills a vital need for supportive housing in the region, providing affordable housing for people who are disabled, mentally ill or formerly homeless and who have the ability to live independently.

It's the first-of-its-kind de....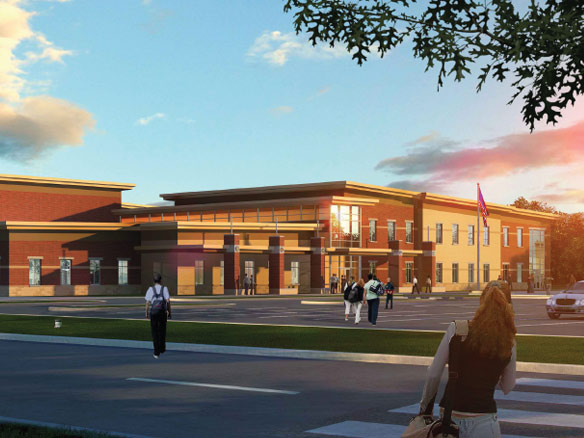 New Clinton Elementary School Starts Construction

2/15/2013
Construction is already underway on Clinton's new 70,000 SF Elementary School.

The community of Clinton, Illinois overwhelmingly passed a bond referendum late last year to build a new High School for its Unit School District 15. The Clinton community strongly supported the school district. The referendum passed by a wide margin, with more than 70% of voters favoring the bond proposal. The project includes not only the construction of a new 70,000 square foot elementary school, but al....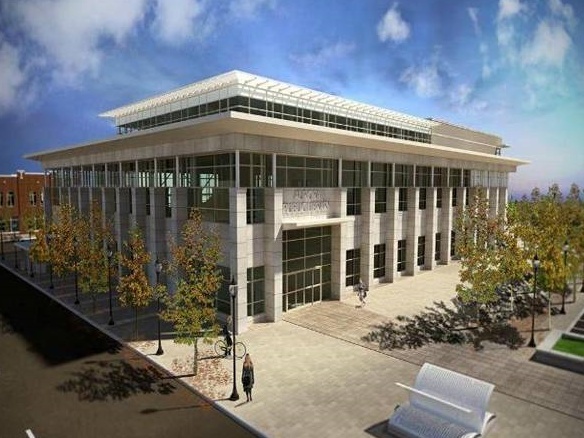 City of Aurora to Build New State-of-the-Art Public Library

10/13/2012
The City of Aurora will construct a new LEED-certified 97,000-square-foot Main Library as part of its commitment to improving the City and its infrastructure. The downtown Library, which serves more than 500,000 patrons each year, has exhausted its current building. To reposition it for the new millennium, the new Main Library will feature state-of-the-art materials handling technology, expanded space for children and youth, meeting rooms, and quiet study rooms, as well as space for cultural ev....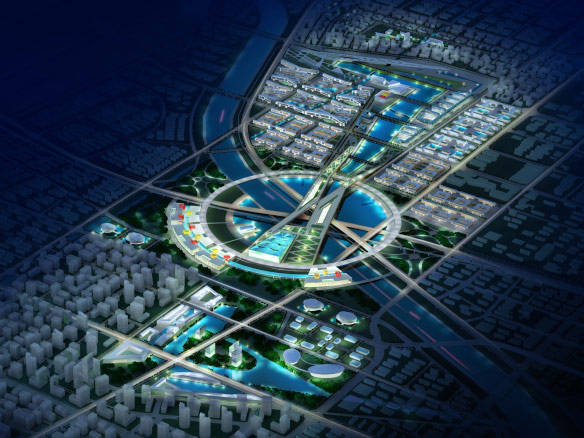 Zhengzhou Center City Master Plan Competition

10/13/2012
In Fall 2012 Cordogan Clark & Associates was one of five firms, and the sole US firm, invited to compete in the competition for the new Masterplan for Zhengzhou, China. Using traditional Chinese graphic metaphors as inspiration, our urban design is designed for functional efficiency and sustainability. Lengthening urban blocks along the east / west axis allows longer north / south building elevations, improving natural daylight and mechanical efficiency. Greenscape is woven throughout the sit....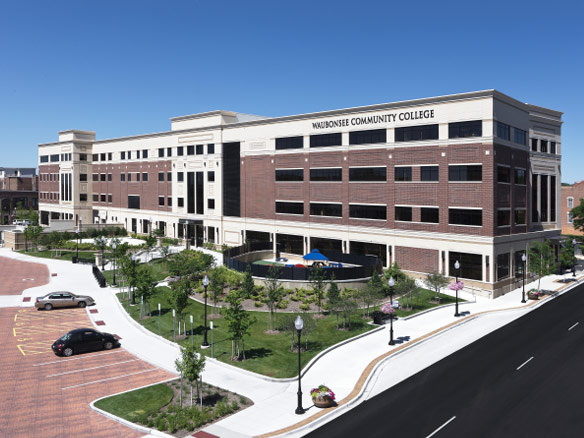 Waubonsee's New Campus Celebrates First Anniversary

6/6/2012
Since its opening, Waubonsee Community College's downtown Aurora Campus has brought new life to the heart of Aurora's downtown. It has transformed an entire block of underused buildings into a new state-of-the-art multi-use educational campus. In just a year, it has served nearly 9,500 students, while also hosting numerous educational and municipal events.

"Waubonsee's downtown Aurora Campus offers Aurorans a wealth of opportunities," Waubonsee President Dr. Christine Sobek said. "....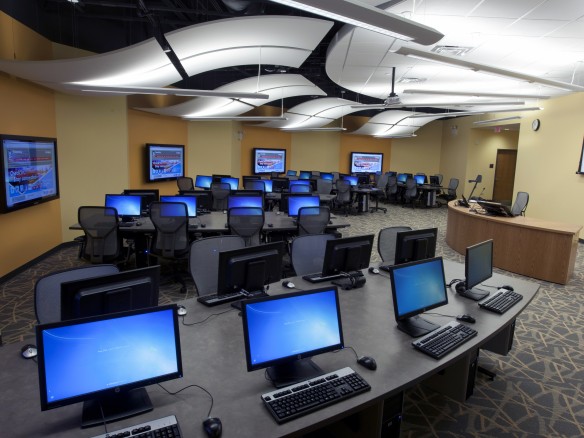 Northern Illinois University Completes New Fay-Cooper Cole Hall: Spring Semester 2012

2/22/2012
This spring semester, Northern Illinois University unveiled the newly renovated and expanded Fay-Cooper Cole Hall. The 1960s-era building, located at the heart of campus, has been transformed into a collaborative-learning environment that university officials believe will be looked to as a national model. The new Fay-Cooper Cole Hall features a state-of-the-art lecture hall, a new home for the NIU Anthropology Museum and a computer laboratory designed to cultivate collaborative problem solving s....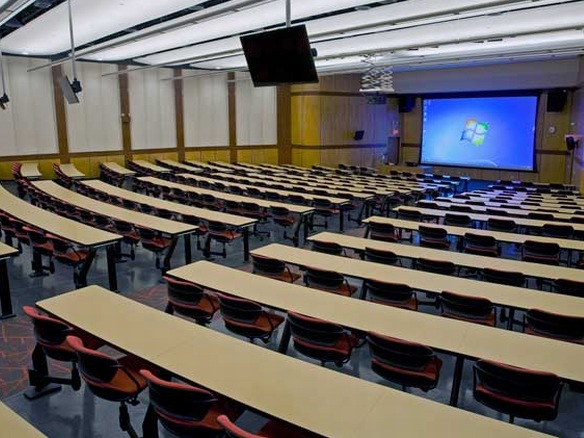 Cole Hall Reopens Today

1/17/2012
High-tech facility could become model for collaborative learning : With the spring semester beginning today, NIU unveiled a new crown jewel on campus - the renovated and super-high-tech Fay-Cooper Cole Hall. What had been one of the university's most outdated facilities is now among the most forward-thinking. The 1960s-era building, located at the heart of campus, has been transformed into a collaborative-learning setting that university officials believe w....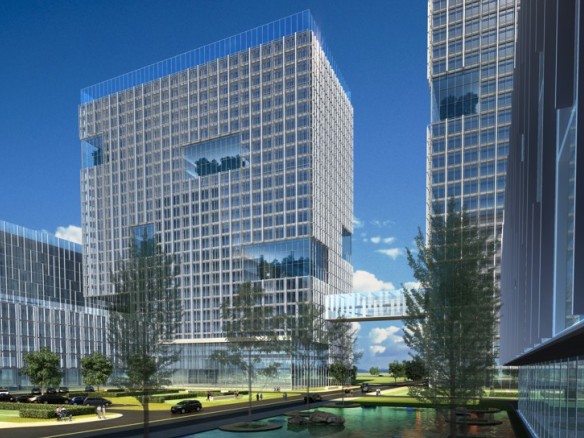 Cordogan, Clark & Associates in Limited International Competition

10/26/2011
Cordogan, Clark & Associates was selected as the only U.S. architectural firm to participate in a limited international competition for the design of the new corporate headquarters of China Aviation Industry Corporation, in Beijing. This is a major aviation company whose focus is to efficiently develop indigenous Chinese military and civilian airline industry technologies. It manufactures J-10 and Super 7 fighter jets, among other aviation products

This master plan design for a 5.5 mi....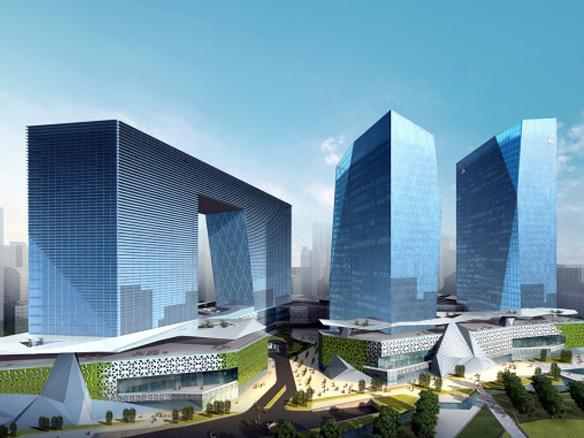 China Charcoal Corporate Headquarters

10/26/2011
In Fall 2011 Cordogan Clark & Associates was the U.S. firm invited to participate in the limited competition for the new China Charcoal corporate headquarters. Our design creates a strong and dynamic new corporate identity. The architectural composition is powerful and iconic. It is instantly memorable from the moment people see it. The arch gateway form of the hotel opens to the elegantly faceted glass towers to the north. These three main elements are embraced by a retail base, verdant landsca....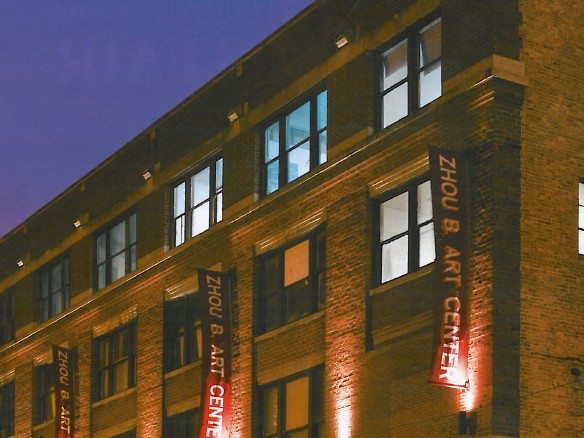 Cordogan, Clark & Associates featured in Chicago Gallery News

10/26/2011
Cordogan, Clark & Associates gallery projects have been featured on the cover of the preceding two issues of Chicago Gallery News.

....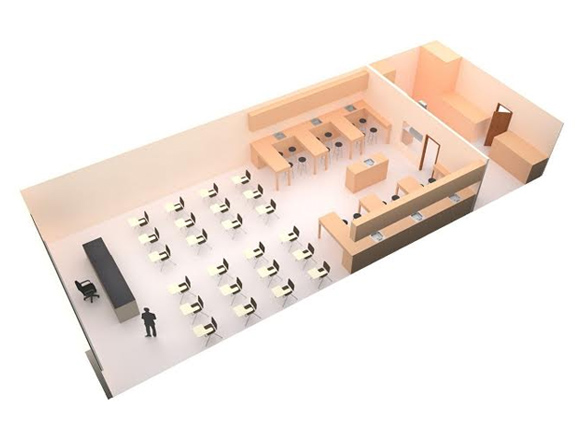 Science Wing and General Renovation - Argo Community High School

10/26/2011
Argo Community High School has provided the Village of Summit high level educational services for the past ninety years. During this time, the campus building has undergone several expansions to accommodate the growing community and student enrollment, now numbering 1,750 students.

Our Master Planning Study of the campus preceded a general remodeling that was able to capture a number of efficiencies. The Science Department, for example, was spread throughout the building, without go....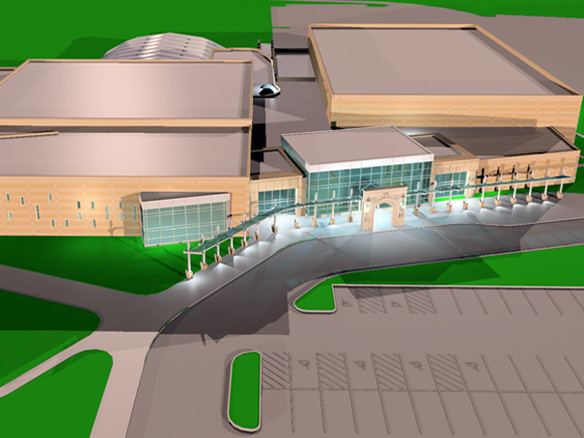 Marmion Academy Completes New Phase of a Multi-Phase Campus Expansion: Fall, 2011

9/9/2011
When school resumed at Marmion Academy this fall, students were greeted by a new building on campus: the Regole Field House. This 36,000 s.f. precast concrete and glass structure contains three practice basketball courts, a running track, sprint track, golf / baseball practice cages, long jump pit and pole vault, with overlapping tennis courts, volleyball courts, and a competition-oriented basketball and volleyball court. Fall sports received a much-needed lift now that basketball practices c....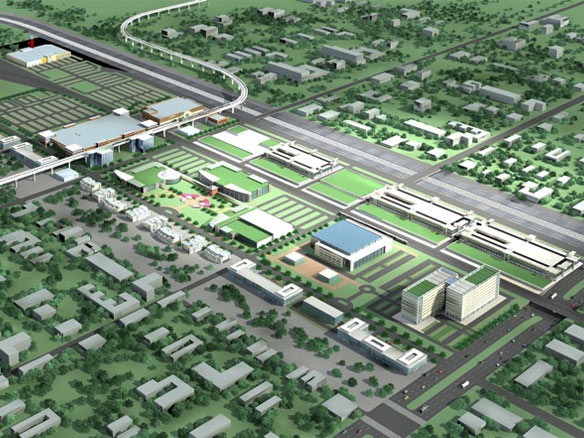 Washington Park, Chicago

9/9/2011
The "metadesign" for West Washington Park restores community life to a large blighted inner-city region. Cordogan Clark & Associates was commissioned to design this project after Chicago's Olympic Bid proved unsuccessful, for the same site that was to house much of the Olympics. Washington Park, a current multi-block master planning project, revitalizes the City of Chicago's urban core by bringing advanced retail and residences to an underdeveloped part of the city. These in tur....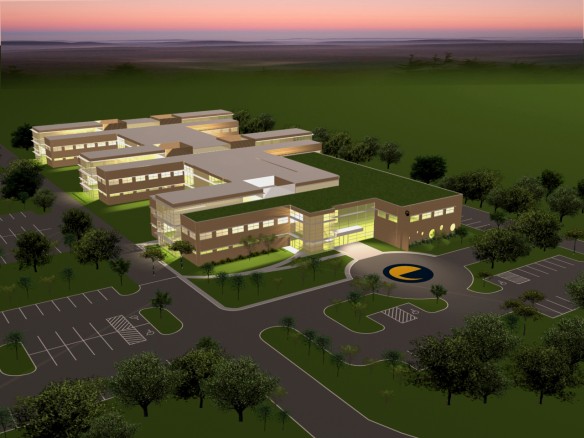 Roquette America Opens Innovation Center

6/29/2011
The 40,000-square-foot first phase of the new Roquette Innovation Center, a sustainable, high-tech center for corn processor, was completed this spring. The facility includes test labs, a pilot production plant, a kitchen, an auditorium and meeting rooms. Sustainable features include water-efficient landscaping, native vegetation and preserved farmland. Cordogan, Clark & Associates is the Architect, and Krusinski Construction is the Construction Manager. This is a world-class Science & Technol....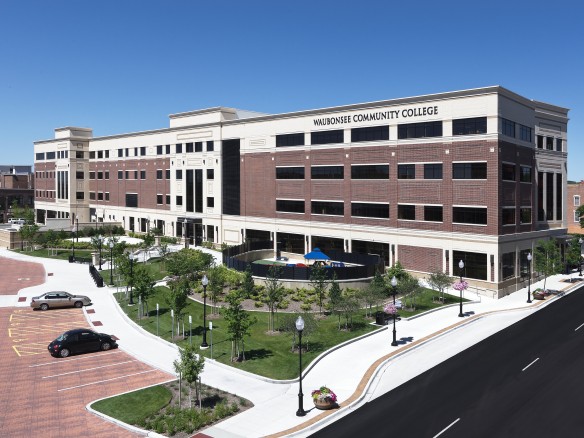 Waubonsee Celebrates Aurora Campus Opening

6/28/2011
On Friday, June 3, Waubonsee Community College celebrated the grand opening of its new downtown Aurora Campus at an event that drew more than 1,000 people. In addition to building tours, attendees heard remarks from Aurora Mayor Thomas Weisner and several Waubonsee officials highlighting how students can now access a complete education all in Aurora.

"Waubonsee has a long history of providing access to education and training for all members of the Aurora community in the heart of down....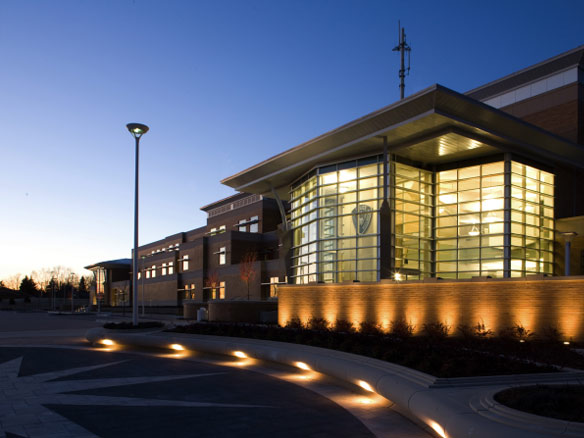 Aurora Police Headquarters Garners Another Award

4/7/2011
The Aurora Police Headquarters and Branch Court Facility has another award to add to its display case after being recognized by the Chicago Metropolitan Chapter of the American Public Works Association (APWA).

The police facility was named APWA's "Structures - $25 Million to $75 Million" 2011 first-place award winner at the organization's annual luncheon March 24.

The Police Headquarters already has been submitted for the national APWA competition by Engineering Enterprise ....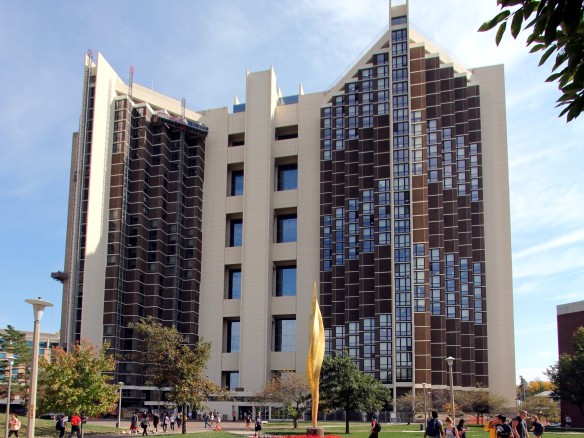 Illinois State University: Watterson Towers Renovation

1/17/2011
Home to 2,200 Illinois State University students during the academic year, Watterson Towers is the tallest residence hall in the United States. Watterson is designed in room clusters, or "suites", as an alternative to traditional linear corridor-style residence hall. The 28-story twin-tower complex is divided into ten, five-story "houses" that are named after U.S. Secretaries of State. The unique design of Watterson Towers treats each house as a separate residence hall, with the third floor of e....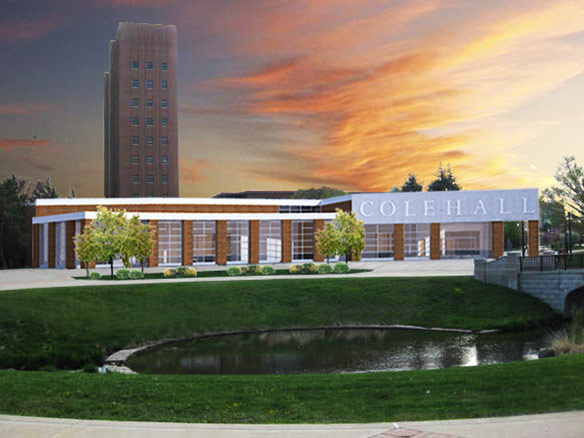 NIU unveils plan for remodeled Cole Hall: Fall 2011 reopening planned

9/17/2010
DeKalb, Ill. - Northern Illinois University today unveiled plans for a remodeled Cole Hall. When work is completed the building will include a state-of-the-art lecture hall, a new home for the NIU Anthropology Museum and a computer laboratory designed to cultivate collaborative problem solving skills. Work on the project is to begin immediately and the building is expected to be reopened in the fall of 2011. The 15,000-square-foot building previously housed two 400-seat lecture halls. One ....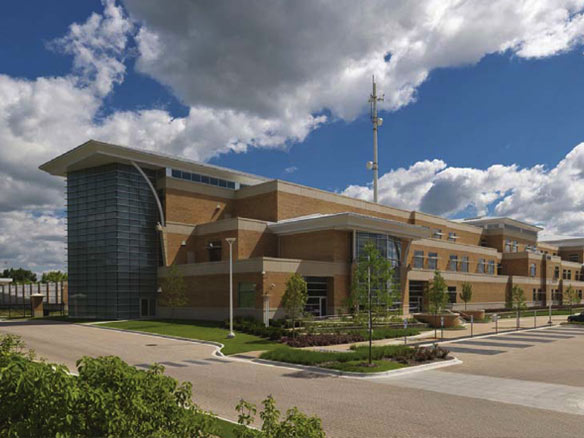 Aurora Police Headquarters

9/12/2010
The newly completed Aurora Police Headquarters and Branch Courts by Cordogan, Clark & Associates with McClaren Wilson and Lawrie, nationally recognized specialists in architecture for law enforcement and forensic sciences, features state-of-the-art technology, substantial increases in the amount of physical space, and sustainable architecture designed to LEED Gold Certification standards. During its construction, the new headquarters was the largest, full-service municipal police department unde....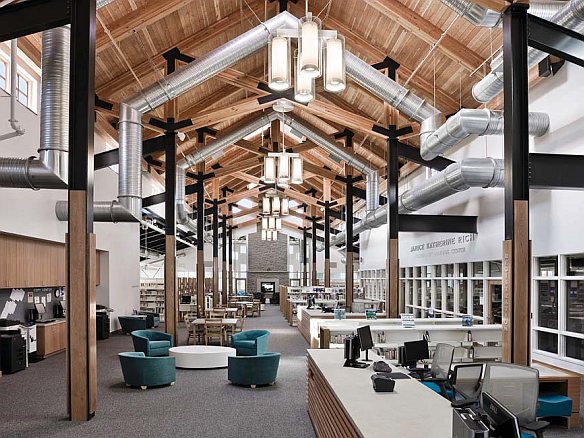 Sugar Grove Public Library

11/24/2009
The new 25,000 square foot Sugar Grove Public Library, designed by Cordogan Clark and Associates,in association with Leo A Daly, replaces the 6,000 square foot building that had housed the library for 37 years. The new Sugar Grove library celebrates the future as well as the past, blending a regional agrarian aesthetic with state-of-the-art technology. It provides a place where people want to be:"I love being here, night or day, inside or out. The building is never the same, the light and sounds....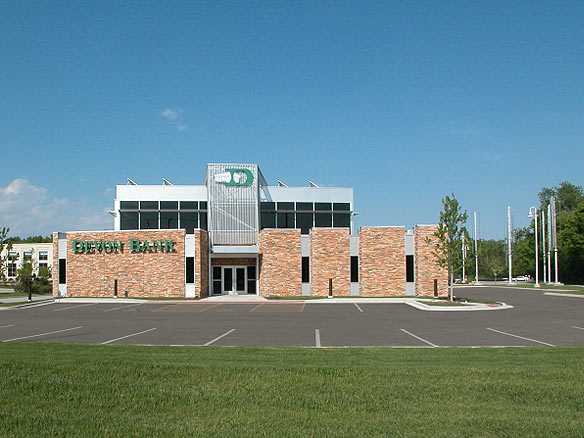 Green Bank Design Pays Dividends

7/8/2009
The architectural design of Devon Bank's new Wheeling branch, designed by Cordogan Clark & Associates, shows that quality green design pays dividends. Soon after opening, this branch bank met its investment goals for the entire year. In addition to highlighting this bank's superior customer service, this also demonstrates the attraction of better quality sustainable architecture. The unique and innovative design, with its roof mounted solar collectors and field of spinning wind turbines, provide....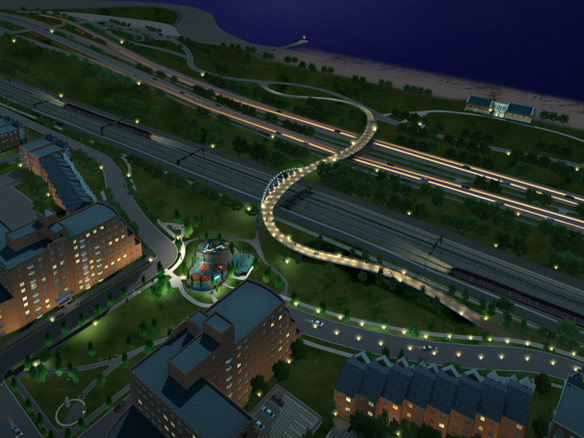 41st and 43rd Street Bridges
City of Chicago

7/8/2009
"As the ordinary directness of line in town-streets, with its resultant regularity of plan would suggest eagerness to press forward without looking to the right hand or the left... we should recommend the general adoption, in the design of your roads, of gracefully-curved lines, generous spaces, and the absence of sharp corners, the idea being to suggest leisure, contemplativeness, and happy tranquility."
–Frederick Law Olmsted

Cordogan Clark & Associates' design for the 41st....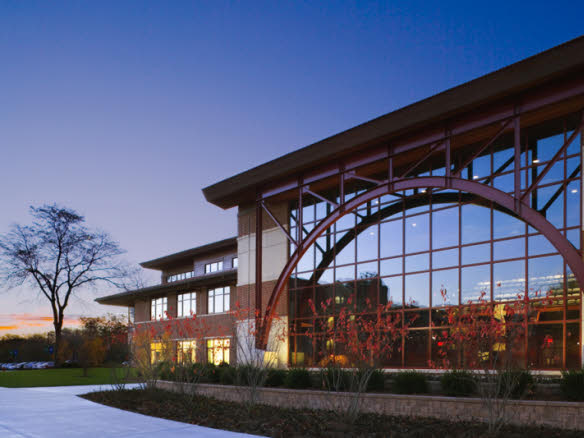 Aurora University's Institute for Collaboration

6/10/2009
The new Institute for Collaboration is an innovative, collaborative "real world" learning laboratory that incorporates tutoring, community service, and professional certification. Built on the south edge of campus, it complements existing "Richardsonian Romanesque" campus architecture while comfortably integrating contemporary building technologies. This 68,000 square foot building includes 29 dedicated classrooms; more than 60 office spaces and resource rooms; the 500-seat Crimi Auditorium; and....